Kfeirians Out and About
Do you have a fun and interesting story to tell? Send your stories to
reunion@kfeir.com.
Raymond Abraham Celebrates His Birthday!

On Saturday, March 3, 2018, with many family and friends present, Raymond Abraham celebrated his 90th birthday at the Guyan Golf and Country Club in Huntington, WV. Congratulations and Happy Birthday Ray!
Tonya Mickel Hatcher Surprises Her Dad, Fred Mickel, with a Surprise 87th Birthday Party!

On Saturday, July 1, 2017, Fred Mickel was surprised by family and friends for his 87th birthday party at the Tug Valley Inn in Williamson, WV. Fred's actual birthday is on the 4th of July. It looks like he had a great time at his birthday party. Happy Birthday Fred!

​Hoops for Hoops tourney raises more than $4K for hospital​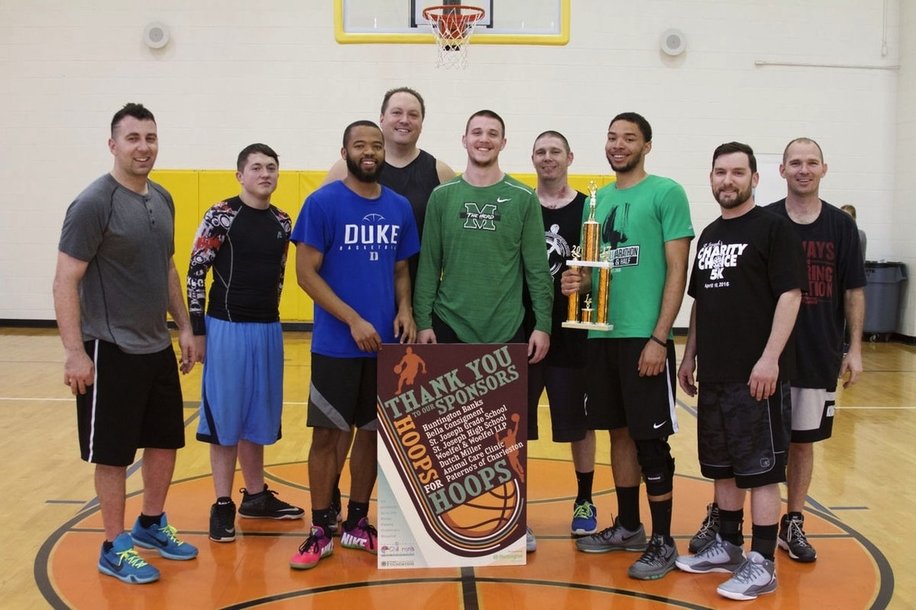 ​





​The Herald-Dispatch - May 9, 2017

HUNTINGTON -Athletes with a passion for basketball and supporting a good cause turned out April 22 for the second annual Hoops for Hoops tournament, according to a news release. This 3-on-3 basketball tournament was developed to raise money for the Hoops Family Children's Hospital at Cabell Huntington Hospital.

"We had 17 teams compete for the title of champion this year," Bradley Burck, vice president of the Foundation at Cabell Huntington Hospital, said in the release. "The event is double-elimination style, and everyone fought hard to take home the trophy." This year's winner was Fellowship of Christian Athletes, who stole the championship title from last year's winner, Dutch Miller Kia. Other teams competing this year included: Recovery Point, Heritage Farm, Dutch Miller Kia, Woelfel and Woelfel, Young Life, Cabell Huntington Hospital, Huntington Bank and several teams managed by Marshall University students.
"The level of competition we witnessed made the event even more exciting," Burck said in the release. "It was amazing to see people of all athletic levels come out and play and just have fun." The tournament raised more than $4,000, which will be used for programs to help sick children throughout the region at the Hoops Family Children's Hospital. If you want to get involved in the 2018 Hoops for Hoops tournament or if you would like to make a donation to the Cabell Huntington Hospital Foundation, contact Velma Workman at 304-526-6314.



---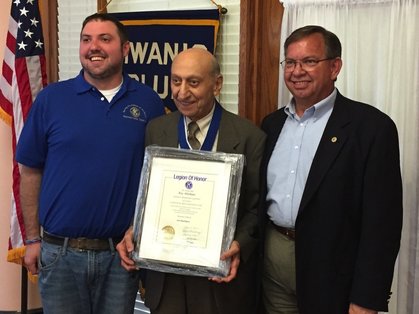 The Herald-Dispatch - June 27, 2017

Abraham recognized for perfect Kiwanis attendance

HUNTINGTON - The Kiwanis Club of East Huntington recognized Ray Abraham during a special meeting May 4 for perfect attendance during his 50 years of club service.

Abraham, 89, a native of Williamson, W.Va., joined the club in 1967.
​
Abraham was honored with the 50-year Legion of Honor. During his time with the club, he has served as Club President, a West Virginia District Division Lt. Governor and for several years as a District Committee Chairman. Club members have previously honored Abraham with the George H. Hixson Fellowship and the Walter Zeller Fellowship awards.

Abraham has served as a pancake "flipper" for the Kiwanis' annual pancake festival and has flipped about 540,000 pancakes.


---
Raymond Abraham
50 years of service in the Kiwanis Club (story follows below)
​What an event!

On May 4, 2017, the East Kiwanis Club of Huntington, WV honored Kfeirian Raymond Abraham for his 50 years of continued service to the club, the community and Kiwanis International with a surprise banquet attended by family, club members and friends. Upon entering the banquet, Raymond could only comment, "You all are trying to make me cry." In the clubs research, they could only find one other member of the Kiwanis Club in the country that had received such an honor.

Club members shared many memories of Raymond's dedication to the community, recollections of past members and how he has personally impacted their lives by his examples, ethics and many capacities of leadership in local and state Kiwanis Club activities. The East Kiwanis Club big fund raising event of each year is their annual Pancake Festival which draws more than 3,000 in attendance. Club president Irvin Scarberry in his heartfelt introduction and award presentation, figured in the unprecedented 50 Pancake Festivals Ray has worked, he has flipped over 54,000 pancakes!

It was a moment the family cherished and were so proud of their father, grandfather and great father. The admiration for Raymond by the East Kiwanis Club members was evident by the time and effort they put forth in honoring him on this night. As his daughter, Linda Thomas said, "I didn't know what to expect, but they exceeded all expectations!"
​


​Rose Thabet Christian Celebrates Her Birthday!

On Saturday, January 28, 2017, with many family and friends present, Rose Thabet Christian celebrated her 85th birthday at her home in South Charleston, WV. Happy Birthday Rose!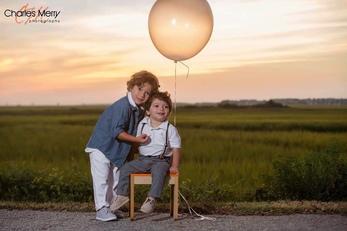 Milan and Beckham

Different as night and day, Milan, 3, boasts a loving, personality and is into construction equipment, cars & trucks; Beckham, 1, is boisterous, free-spirited and loves to make messes. Proud parents are Bashir and Stephanie Hanna Adili of Mt. Pleasant, SC and grandparents George and Gloria Hanna of Huntington, WV.
---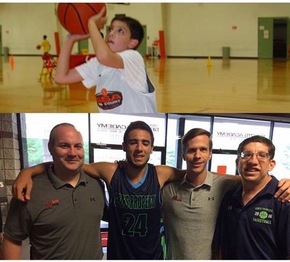 Michael Joseph played his last competitive AAU game on the court where he has trained for fourteen years. Brother Nick has watched every training session and every game. Now on to the final High School season. Proud of you Mikey & Nick!
---
The Slater and McCoy Children "Back 2 School!"

Jeanette Cantees McCoy has a lot to be proud of including her four grandchildren and six great grandchildren and there is one on the way!

Top left, Cade Slater and sister Cassidy Slater, proud parents are Paul David and Valerie Slater

Middle: Megan Slater and brother Grant Slater proud parents are Chad and Dani Slater. Not pictured because he is not in school yet is great grandchild, Lincoln.

Bottom: Grandchild, Paul Dustin McCoy proud father is Rod McCoy and mother is Heather Litton.

And Lillee McCoy, proud parents are Rod and Jamie McCoy.





---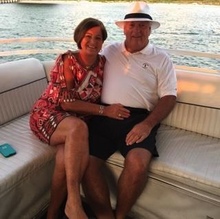 Hip, Hip Replacement!!

James and Cheryl Slater both underwent hip surgery this spring and summer. James in April and Cheryl
in June. They both took care of one another during that time. Both are doing very well.

We expect to see them on the dance floor at the 84th Reunion in Myrtle Beach!

---
A Dream Come True

Jeanette Cantees McCoy from South Williamson, KY and from the "George and Anna Cantees Clan of Williamson, WV" was recently on the local news and was also featured in a the 2015 Edition of the Pike County Magazine in Pike County, KY. She was interviewed about her love for sports at the ripe age of 88. Jeanette was pictured holding a Whitaker Bank photo of Karl Anthony Towns, which he signed for her after one of the home games at Rupp. There is no doubt that Anthony Davis and Willie Cauley Stein were two of her favorites though. Jeanette's grandson, Paul David always gave up his seats in the Eruption Zone, just so she could go to the games and another grandson, Chad always went to signings for his little boy, but always remembered Grandma. In the photo to the left, on the wall behind her was a massive print he had bought and had framed for her with names signed on it. In addition, her daughter, Christy bid on a painting at Rupp during the Mr. and Miss Kentucky Basketball Dinner and gave it to her mom. It is a beautiful oil on canvas painting of the grounds around UK campus with Rupp rising high above in the background.

On June 14, 2016, Jeanette had the chance to meet, get a signing, and take a picture with Willie Cauley Stein, her favorite player of all time. At the signing, Christy and Jeanette were third in line and when Stein was two miles away, Jeanette advanced to her place in line that Christy was holding. She proceeded to pick out her favorite photo of him to sign. Jeanette walked over to the table and told him she loved his game and especially loves his attitude when he gets fouled. He chuckled. She told him she is pretty sure she was one of his oldest fans. Stein was very patient with her and she let him read what she had said about him in the Pike County Magazine.....he said, "That is awesome Mrs. McCoy. Thank you!" He signed the article as well. See the picture at bottom left.

Jeanette celebrated her 90th birthday on Sunday, August 28th at the St. Paul's Episcopal Church in Williamson, WV at a gathering of family and friends.

She has four grandchildren and her seventh great-grandchild is due the first part of December.​








​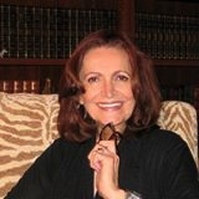 Windows to Heaven

Karyn Cantees Stagg has a blog at www.karyncanteesstagg.com where she writes about her life and her faith and the lessons she has learned. She is hoping to change lives and show people how living for Christ can make a huge difference. On Facebook her blog is found at Windows to Heaven. Karyn's stories are always very interesting and enlightening.

"
Sometimes God seems to reach out of heaven and touch us with the Divine. He gave me a visual of His power and His purpose and overwhelmed me with gratitude and love. Hallelujah for new beginnings and for the wonders of our God!" kcs
---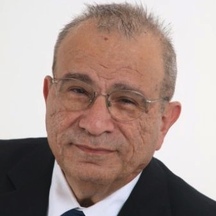 From the Herald Dispatch - HUNTINGTON - Huntington native George Campbell Hage is returning to perform a classical piano concert in his hometown at 7 p.m. Thursday, Aug. 18, at the Huntington High auditorium. Admission is free. Hage will be accompanied by his sister, Helen Freeman, on vocals. George Hage is the eldest son of Campbell J. Hage, creator and former owner of Cam's Ham in Huntington. He is a licensed professional counselor and therapist serving at Insight Human Services in Winston-Salem, North Carolina. He has been in counseling 25 years and completed 10 years of service at Insight on Feb. 21. In 2012, Hage earned a doctor of philosophy degree in Eastern Orthodox studies through Pole Euclide Universitas of Ghana, Africa. St. Gregory Nazianzen Institute of Theology, under the Patriarchate of Constantinople and the University of Guatemala, awarded Hage the degree doctor science in the study of religion in April 2014. In April 2013, Hage was received into the Eastern Orthodox Church and was ordained a presbyter (priest) by Metropolitan Archbishop Michael (Jordan). He currently serves with the Archbishop as associate pastor in High Point, North Carolina, with St. Seraphim of Sarov Eastern Orthodox Church.
​
---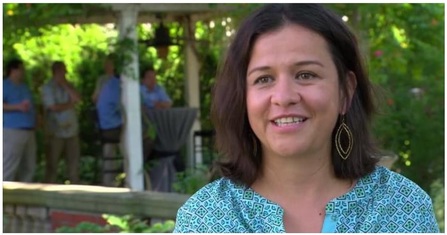 Genealogy Roadshow - Detroit 2013
​You may remember that Kevin and Monica Donley were featured on the Genealogy Roadshow on PBS back in 2013. The link to the show was recently posted and you can check out the feature below. This clip from Genealogy Roadshow focuses on Monica Donley, who has roots in Mexico and lives in Detroit, Michigan, with her children and husband Kevin, an amateur genealogist who suspects, but cannot confirm, that Monica has ancestral ties to the 15th century Spanish explorer Juan Ponce de Leon. Using techniques in Spanish genealogy, a professional genealogist successfully shows that Monica is the 15th great granddaughter of Ponce de Leon, demonstrating how to work forwards from a suspected ancestor and backwards from known ancestors to connect family trees.
---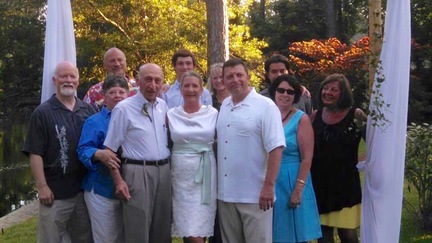 A Family Wedding at the Beach

Cousins from left to right, John Parrish, Mike Abraham, Sherry Mickel Parrish, Ray Abraham, Michael Abraham, Carol Rahter, Nora Abraham, Thomas Bevins, Garrett Russell, Denise Mickel Russell and Sandy Mickel Ruder gathered at the home of Carol in Myrtle Beach, SC for the wedding of Thomas and Carol on Saturday, June 11, 2016.

And what a fun wedding it was!

​Congratulations to Thomas and Carol!

---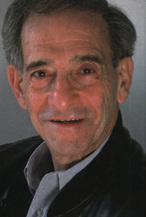 ---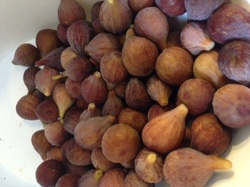 The Fig Tree
by Kevin Bevins

A few years ago a co-worker gave me a cutting about 2 feet long from her fig tree. It looked like a twig in a small pot of dirt with three leaves. I planted it in my back yard and within two years it had grown big enough to produce figs. Now, maybe 4 or 5 years later it is over 12 feet tall and is LOADED with figs which are coming in right now in the middle of July in South Carolina. Every single branch of the tree has multiple figs. I've got most of my kids picking, eating and loving them but try as we might (and even with the help of the birds) we can't keep up with this tree. I'll eat a good dozen whenever I pick them.


I can't help but think about my grandfather Abe Mickel whenever I'm picking figs. He had two fig trees in his yard that I remember very well. I remember being around those trees and I remember there being figs in the kitchen. I wish I had known him longer and better and knew some stories to pass on to my kids, but he left us way too soon. He passed away when I was around 6 years old, so I don't really remember anything he ever said to me. This tree that I have now in my yard ties me to him and the memories of the trees that he had make me wonder about a lot of things every time I am out there under the tree.

I think about why he left the country of his birth and his extended family and came here. What drove him to make such a radical change to his life? I wonder what he had to do to make it possible to come here, what he brought with him, what he taught his children, how he found a place to live, how he started a business, what kinds of things were important to him, what were his favorite things to do, what were his gifts and callings in life, what drove him to do the things he did, what were his spiritual beliefs and most importantly what was his relationship to his Creator.

I know some facts about his life. I know he was born in 1889 and came here in 1906. His uncle was already here. He stayed with him for awhile, got jobs and became a citizen in 1915. He served in the American army and fought overseas in the trenches in World War I. In 1920 he went back to his home country to get his mother and sister and sell some property so he could bring them here, but got delayed. He got married and had a son, and after a few more years eventually was able to bring them all here a few years later. Once established in the US, he became a successful merchant, bought a house and had three more children one of whom was my mom.

The questions I would like to know the answers to are the deeper things – his beliefs, motives, feelings, and values. A few of his relatives that are still living know the answers to some of these questions, but if this quiet family man shared his deep thoughts about most of these issues, they somehow got lost. One thing I know is that he loved growing things in his yard. I remember other flowers (Four O'Clocks) and herbs (Spearmint) and vegetables (Tomatoes) that were growing in his yard. I know he loved those fig trees and he took good care of them – pruning them and wrapping them up in the winter to protect them from the hard West Virginia winters. I know he loved his family and was a good provider for his wife, children and grandkids.

These things I wonder about him so strongly when I am watering, fertilizing or harvesting my fig tree, the things I wish I knew, are the things that I can only guess because they weren't passed on to me. I say all of this to say to you to spend time with your children and your grandchildren. Tell them your history. Teach them what you know how to do. Play with them. Have fun with them. Build memories with them. Pass on your values, explain your beliefs, your motives, and your feelings. You might even want to plant a fig tree in your yard, teach them to love figs and why. Figs are a part of our heritage.

If any of you want to come over and eat some figs from my tree and sit and tell some stories, please feel free, anytime. Just call and make sure I'm here. There are still a LOT of small green figs on this tree and I have no idea how long it is going to keep producing this year.

There's nothing quite like a fresh ripe fig.

---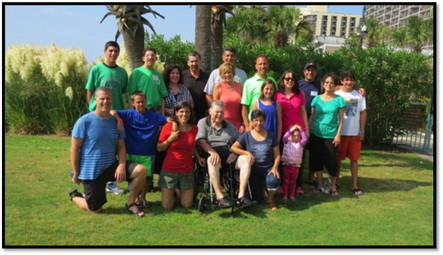 And so it goes…

George Hanna submitted this picture to the newsletter editors via email and Sherry Mickel Parrish asked the question, "How is John Joseph related to Phil Sadd?" We think secretly that Sherry was wondering if she was related too.

George replied, "John Joseph's mother, Naime Saad married Sam Joseph. She had five brothers, Ayoub, George, Daniel, Julian and Edward Saad and one sister, Eva. Naime's father, Toufic had a 1st cousin named George Sadd. George was the father of Jameel, Adeeb, and Charlotte Sadd Lechlak. They are 2nd cousins with Naime, and her siblings. Jameel's kids (Phil, Tammy Sadd Scott, Randy and Greg Sadd) are 3rd cousins with Naime's kids (John, Sandra and Diane Joseph Asmus). And that's how Phil Sadd and John Joseph are related."

And in true Kfeirian culture, these family members are related in more ways than one. When Naime came to America as a young adult, her uncle George Sadd adopted her so she could remain in the US. Through adoption, Naime became George's daughter. Naime also became Jameel Sadd's sibling, which makes Phil Sadd and John Joseph both 1st and 3rd cousins. Sam heard of a young single lady in Toledo after the adoption and he went to Toledo and married Naime. Many years later, still living in Huntington, John heard of a young single lady in Toledo, went there and married Krissy. He did the same thing as his dad!

George Hanna then added, "Jameel was married to Louise Hanna Sadd, niece to my dad Moussa, and that is how Louise and I are related. Adeeb Sadd married Carolyn Thabet Sadd and her brother Charlie Thabet is married to my first cousin, Layla Nassar Thabet. Layla is my mother's niece. I think that's the way it goes…"

Then Sherry jumped in added, "Carolyn Thabet Sadd and Charlie Thabet were siblings to Linda Thabet Mickel who was married to my uncle Mitchell Mickel, who is brother of my father, Alex Mickel and Mitchell is father to my first cousin Denise Mickel Russell…and so it goes". And that Sherry is how you are related…and it goes on and on and on.

What a great family story showing how we are all connected! If you noticed the difference in the spelling of Saad and Sadd, Charlotte shared the history. She wrote, "The only reason for the difference in the spelling of the last name is that when Aube Saad, my grandfather, came to this country thru Ellis Island, his penmanship was not the best, and the 2nd "a" looked like a "d" so Saad then became Sadd."

Pictured front row, left to right: Steve Pegram, Max Pegram, Laura Lechlak Pegram, Larry Lechlak, Charlotte Sadd Lechlak, Grace Sadd. Back row left to right: Michael Joseph, Nick Joseph, Tammy Sadd Scott, Marshall Scott, Chrissy Joseph, John Joseph, Phil Sadd, Samia Pegram, Stephanie Sadd, Randy Sadd, Carolyn Thabet Sadd and Luke Sadd. Taken at Myrtle Beach, SC at the 2013 Kfeirian Reunion


---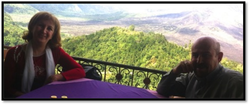 A Happy New Year!

Simon NaoufalI and his lovely wife, Najwa Banna from Lebanon, formerly from California 33 years ago, attended many Kfeirian Reunions in the past. They live between his hometown of Kfeir and Beirut. Simon is pictured with Najwa in Bali Indonesia celebrating the New Year 2014. He encourages every one to visit the lovely village of Kfeir.


---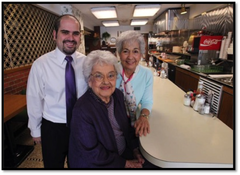 A Celebration!

Pictured above from right is Jimmie Carder, her mother Sally Tweel, and Jimmie's nephew Brad Tweel. In June 2013, Jim's Steak and Spaghetti House in Huntington, WV celebrated 75 year in business. Congratulations!!


---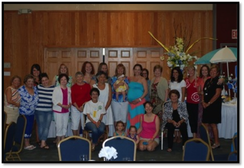 A Baby Shower!

Becky Rahal Anderson and Gloria Hanna gave a baby shower in Milan's honor at the 81st Kfeirian Reunion where all the ladies got together to celebrate.


---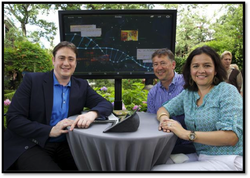 A Cool New Show!

"Genealogy Roadshow" featured our very own, Kevin and Monica Donley on the September 30, 2013 episode!


---
A New Adventure!

Gia Michael, daughter of the late Diann Michael recently emailed to let us know that she has travelled to India on a one-way ticket with a small backpack. She will be scattering her mother's ashes in the Himalayas. Gia has started a blog and you can follow her at http://gaiamama.us.
​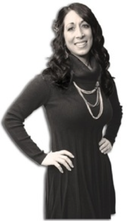 Spotlight on Toledo "Mover and Shapers"
Deitra Hickey a University of Toledo alum, is the owner and operating manager of Serenity Health and Wellness Center, as well as a counselor and certified life coach. She demonstrates her daily commitment to the Glass City through Serenity Health Spa, which opened in April of 2010 and provides a wide variety of holistic treatment, detoxification and stress-relieving services.
Visit
serenityspamaumee.com
for more information
Deitra is a former Board of Trustees member. She is the daughter of Larry and the late Ruth Jamra of Toledo, OH.
---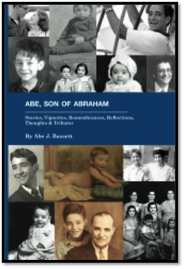 A New Book!

Abe, Son of Abraham is the title of a just published book by Abe J. Bassett of Beavercreek, Ohio.

The book begins as a series of well-written and funny vignettes about the author's early years and his special relationship with his father. It concludes with remembrances of his uncles and aunts, immigrants from Lebanon. In between are stories of adventures of hitchhiking in Europe, serving in the Army in the Far East and traveling in the Middle East.

The title derives from the fact that Abe and Abraham are Junior and Senior, leading to the book's dedication to the father whose influence permeated the life of the junior. Abe J. Bassett is Emeritus Professor of Theatre Arts at Wright State University, and former Dean of the School of Fine and Performing Arts at Indiana University Purdue University Fort Wayne. He writes about his academic career and how his Theatre Arts department became the most outstanding undergraduate program in Ohio. Earlier he edited and published Memories of Rahija, stories of his mother. Altogether in 296 pages there are 55 entries in ten sections.

Abe, Son of Abraham is available at Amazon.com. Enter the title or the author into the search bar.


---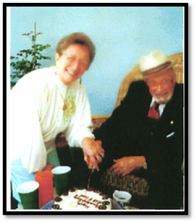 A Recipe Book!

Wes Kawaja wrote to tell us about his Great Aunt Rose Cury Bittar's Recipe Book. It was recorded by Wes' cousin Eddie, shortly before he passed away. Wes received a copy from his Aunt Mary before her passing. Check out the wonderful recipes at this web link:

www.328studios.com/books/RoseCuryBittarCookbook.pdf

Pictured to the right is Rose Cury Bittar with her husband, Anthony Bitter, Syrian born, a Pharmacist turned artist.

---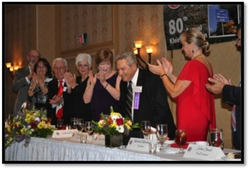 George! What does it take to become a legend? A commitment to keeping the flame lit!

There have been many contributors to the ongoing success or our Kfeirian Reunion Foundation, but none so loyal and hard working as our own George Hanna! Thank you for 50 years of dedicated service!


---
A Celebration!

As if celebrating the 80th Kfeirian Reunion over four days wasn't enough, at the Monday morning brunch, Nancy Rutherdale, daughter of the late Alice Tamam Bassett Rutherdale, made the event even more special. Speaking on behalf of her brother and sisters and highlighting the life of their mother, the family made a $9,400 contribution to the Kfeirian Reunion Foundation Scholarship Fund. It was the largest single donation to the Fund in recent memory and was the highest honor they could bestow in their mother's memory.

In reflection of this wonderful gift, then Kfeirian Reunion President Mike Abraham said afterwards, "this donation embodies not only the memory of a beloved family member, but the spirit of the Kfeirian Reunion. It honors our past and all those who have come before us with a focus on future generations of Kfeirians. Our thoughts and prayers are with the family in the passing of their mother and we thank them so much for keeping the memory of their mother alive with such a wonderful gift."

Alice is the daughter of the late Abraham Joseph and Rahija Saad Bassett, passing away April 16, 2011. Born in Williamson, WV, Alice graduated from Williamson High School, where she was a member of the marching band and an excellent student, even while working evenings in her father's confectionary store.

Alice graduated with a B.A. from Marshall College, taught music for a year in Cassopolis, Michigan, and learned to fly a plane, all before completing a Master of Music at the University of Michigan in 1944. That year Alice joined the Women Army Corps (WAC) and served as a cryptographer at the US Army Signal Intelligence Service at Arlington Hall in Virginia.

It is evident from her background how much Alice valued education, and now, with the forethought and generosity of her children, that commitment to higher education will be carried on to the children of all Kfeirians.

Pictured: The four children of Alice Bassett Rutherdale and Alice at a Middle Eastern restaurant celebrating Alice's birthday. From left to right, Jay Rutherdale, Sacramento, CA, Jan Rutherdale, Juneau, AK, the late Alice Bassett Rutherdale, Martha de La Soujeole, Dallas, TX and Nancy Rutherdale, Sacramento, CA.

---