Family Recipes


We would love to post your Arabic family recipes and any stories that go along with them. Please submit recipes to reunion@kfeir.com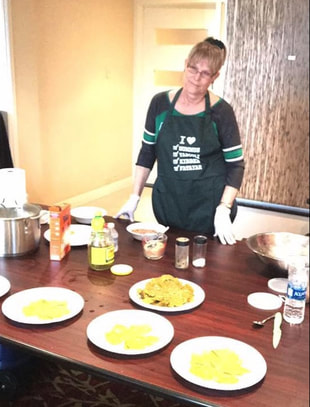 ​Mihshi Waraq Inab
Nora's "Abraham Family" Stuffed Grape Leaves Recipe

55 -65 grape leaves (3-4" ) , fresh or canned. I use jarred brand Orlando
1 lb. lamb shoulder, ground
1 cup uncooked rice
1/4 c Lemon juice
1 Tbsp cinnamon
Salt and pepper to taste

Rinse rice in cold water and let set in water for approx 5-10 min. Then drain. In a large mixing bowl, add all ingredients, with the exception of lemon juice and leaves. Mix well. I use my hands. Make sure you wash them first, to thoroughly mix all ingredients.

Remove leaves from jar. Do not rinse. They are in brine water and need to remain moist and the flavor is enhanced from the brine water. Unroll leaves and spread out flat on a large dinner plate. On a second large dinner plate take one separated leaf and place vein/stem side up and spread out completely flat. Cut off stem. Place a heaping teaspoon on center of where stem was cut off. Form meat mixture into cigar shape. Begin rolling . After the first roll, fold in ends on both sides. Tuck in well and continue to roll tightly. This will be about a 1/2" - 3/4" thick depending on size of leaf.

Have a 2 1/2 quart pot lined with a few of the leaves spread on bottom of pot to prevent sticking. Arrange rolls in compact rows and barely cover with water. Sprinkle a Tblsp of salt across the top of the rolls and place pottery plate over them so the rolls will remain firm and intact. Cover pot and cook on medium heat 15 minutes. Add lemon juice, lower heat and simmer an additional 15 minutes or until leaves are tender. Keep plate over leaves and drain well. If preferred, use a clean platter/plate to
unmold by placing over pot and invert.

Note: If stuffed grape leaves are barely covered with water, All water will be absorbed when ready to unmold.

Enjoy !!!
---