Bassiet vs Bassett

An explanation from Abe Bassett - the spelling of "Bassiet" for "Bassett" was the doing of my Uncle Frank, (who claimed he was born on Christmas Day in Canada). Actually, this spelling mimics the Arabic pronunciation of "al-buh-SEET." However, all members of the family chose "Bassett" except those who settled in St. Albans, WV., who were my father's first cousins. For them it was "Bassitt."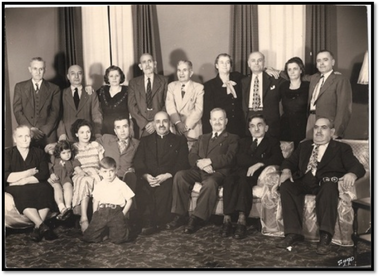 ​Historical Photograph From 1947 - Williamson, WV

Abe Bassett submitted this historic photograph from 1947 which was taken by Jasper I. Saad in Williamson, WV. Here is the identification of the people in the photo: All are from Williamson, WV except as noted. From Left to Right, Standing: John Bassett (St. Albans, WV); Abe Mickel, Nahia Mickel, George Cantees, Nasseph McCarus (Charleston, WV), lady unknown, Albert Jamra (Toledo, OH), Hania Steffan and Sol Steffan. Seated: Miriam Bassett Kawaja, Selma Kawaja, Nellie Kawaja, Abe Kawaja, Priest, George Kerbawy (Blissfield, MI), Joe Simon (Bluefield, WV), Joseph Cantees. Sitting on Floor: Louis Kawaja.

Miriam Bassett Kawaja is mother to Abe Kawaja and first cousin to Abraham Bassett. She is sister to George Bassett and John Bassett of St. Albans, WV and aunt to Abe N. Bassett of Oak Harbor, OH. Great picture Abe! Thanks for sharing!


---