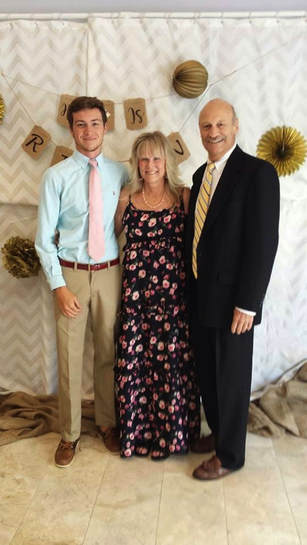 A Message from the Kfeirian Reunion Foundation President,
​Mike Abraham
​
Greetings my fellow Kfeirians. It's a great honor and privilege to serve you as president of the Kfeirian Reunion Foundation for 2017-2018. I thank your Board of Directors for their dedication and this opportunity they've given me. Let us never forget the birthplace of our heritage, Kfeir.
​Many roads have been traveled throughout our 85 year history. From unorganized gatherings in the 1920's of what was then the Kfeirian Brotherhood to the first planned gathering in 1932. This is when it was proclaimed by our ancestors, all from this small village in Syria, they would meet annually. As the Reunion continued to grow over the next 15 years, the decision was made to incorporate in 1947 and now we're moving proudly and confidently toward 100 years of the Kfeirian Reunion. What a heritage that has been passed down to us! In moving forward, we will never forget our past and those who built the foundation we stand on today, for the strength of the Kfeirian Reunion has been and will always be its people. People who have given their time, energies and heart so we can continue to gather each Labor Day as we did this past year for the 85th time in Charleston, West Virginia. It was an opportunity to see family, friends and to meet new cousins. Not only to celebrate a heritage and culture, but ourselves, who we are, and our proud past.
I encourage each Kfeirian to take the time and visit the website,
www.kfeir.com
, and explore. There is so much information available for each of you. Family news, pictures of Kfeir, previous newsletters, family tree information and so much more. You can even link onto the Kfeirian Reunion Facebook Page and the Kfeirian travel portal,
www.kfeirtravels.com
, where you can make all your travel plans and do some online shopping. All this just a click away.
Already your Board of Directors are making plans for the 2018 reunion in Myrtle Beach, South Carolina. With the success of the cooking class this past year where our chefs taught us how to make grape leaves, kibbe and humus, we'll continue to embrace our culture with another great menu of tasteful Lebanese cuisine to sharpen all of our cooking skills. There will be a dubkie dance class so we can dance each night away and let's not forget George Hanna's Arabic 101, ​the beginning language class.
Something very special has been given to us and it's the envy of many when they hear of the Kfeirian Reunion, who we are and our achievements. We will strive to strengthen our Kfeirian bloodlines and a continued sense of Kfeirian pride. Thank you again for this opportunity to serve you and I look forward to seeing many of you Labor Day Weekend 2018 in Myrtle Beach, South Carolina!
Mike Abraham
President
---

​The 86th Kfeirian Reunion will be held in Myrtle Beach, SC on Labor Day Weekend from Friday, August 31 to Sunday, September 2, 2018. The registration letter, form and raffle sheet will be updated at a later date.​








Village of Kfeir
Click here to read a history of Kfeir and view pictures of the village.





---









Family Reunions
The 84th Annual Kfeirian Reunion will be held in Myrtle Beach, SC from September 2-4 at the Kingston Resorts, Hilton Hotel!
​Call 1-800-876-0010, Code KFR for reservations.

---









Family Tree
Click here for access to view the Kfeirian Family Tree and links to genealogy research tools.




---

Turn your vacations into donations. Click here to find out how.

---









Scholarships
The Foundation provides scholarships to students who demonstrate financial need, leadership and scholastic ability.




---

Family News
Check this section for the latest news on achievements, births, marriages and obituaries.





---